This article describes how to connect your Facebook Ads account to Pressboard Studio in order to bring those metrics into any campaign report
To begin collecting Facebook Ads Manager data in your Pressboard Studio account, you must first connect the desired Facebook Ads account(s) to your Pressboard Studio account.
Start by clicking on your User profile (top-right), then click Admin Settings and toggle over to the Data Sources tab
Click Facebook Ad Accounts, then click Add Ad Account
Note: You must be an Admin in Facebook Business Manager to successfully make these connections.
3. If this is your first time connecting any Facebook account/page, you will need to
log-in to your Facebook account via the pop-up window (appears after clicking
Add Ad Account) and ensure to select Allow and grant all the requested
permissions.
If you've previously logged into Facebook via the platform, your Ad Accounts will already be available for selection (+) in the list. Press the (+) button next to each Ad Account to establish the connection to those account(s) from which you'd like to pull results.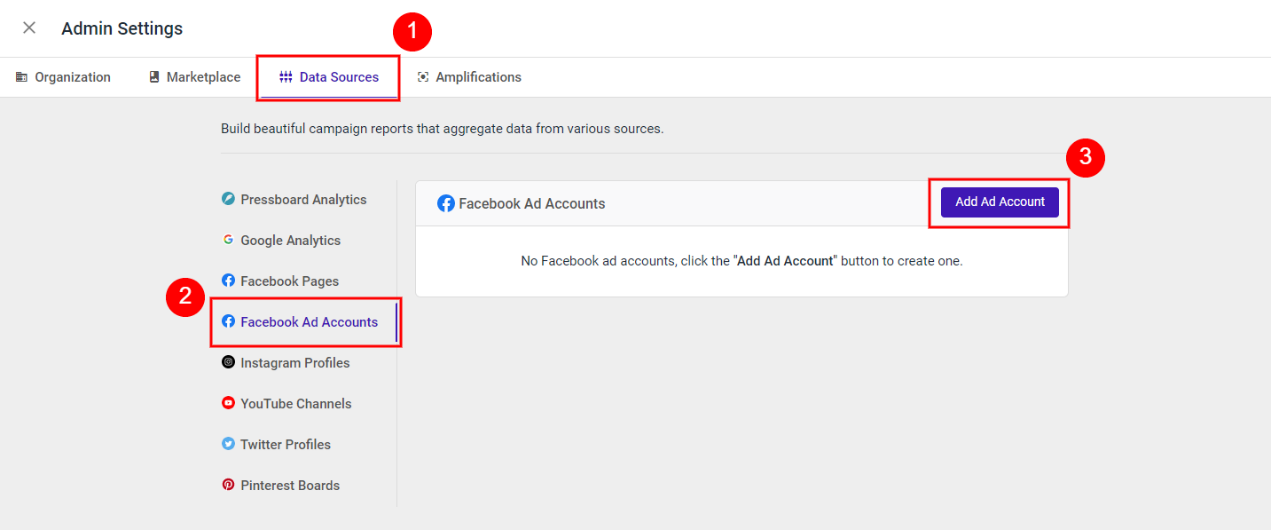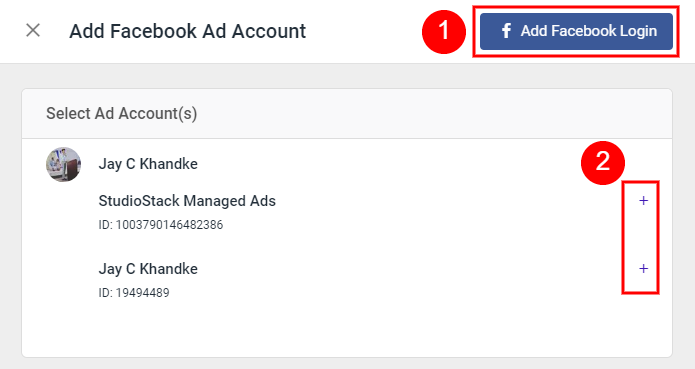 How to measure the results of a Facebook Ad Set in Pressboard Studio:
Once you've successfully connected your Ad Account(s), go to any Campaign, select a story and go to its Reports tab. Under Facebook Ad Set Analytics, click Add Ad Set, this will open a new window with some required input fields:
a. [Required] Facebook Ad Account: Select your FB Ad Account from the drop-down list
b. [Required] Ad Set ID: Retrieve your Ad SET ID from FB Ads Manager and paste it in this field (see screenshots further below on how to retrieve an Ad Set ID)
c. [Optional] Display Name: Give this Ad Set a Display Name. The given Display Name allows you to easily distinguish between multiple promotion's results that are displayed in a Custom Report/Share URL.
IMPORTANT: As of May 12th, 2020, the UTM field is no longer available. Users may continue to append UTM_Campaign parameters to ANY traffic driver including their Facebook dark posts and have the ability to filter by that traffic source's results in the Pressboard Analytics dashboard. Doing this will allow you to observe how many of your external promotion's Clicks are converting to Reads (Page-Views). Since Pressboard Studio reports on the entire Ad Set as a whole, you must keep the same naming ("UTM_Campaign=this part") for every Ad within the Ad Set.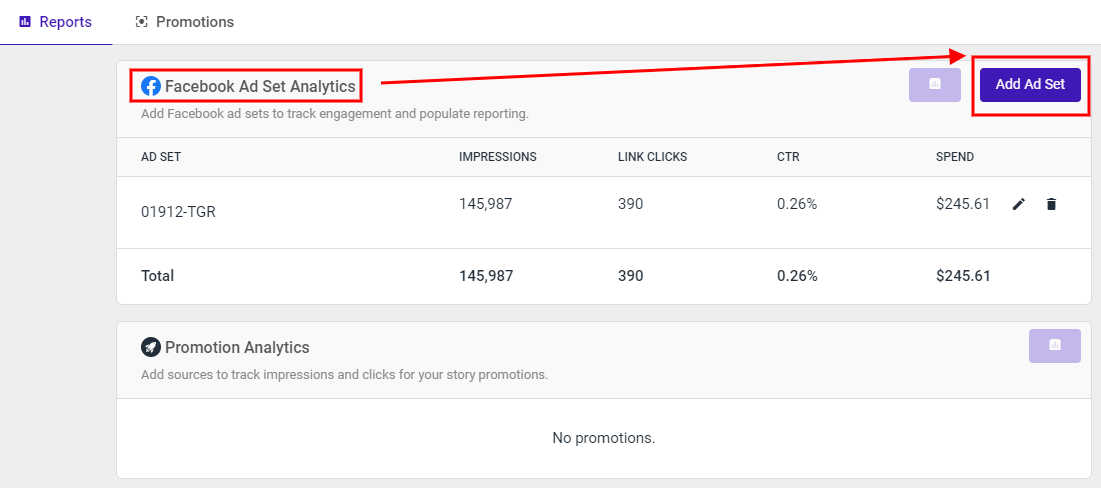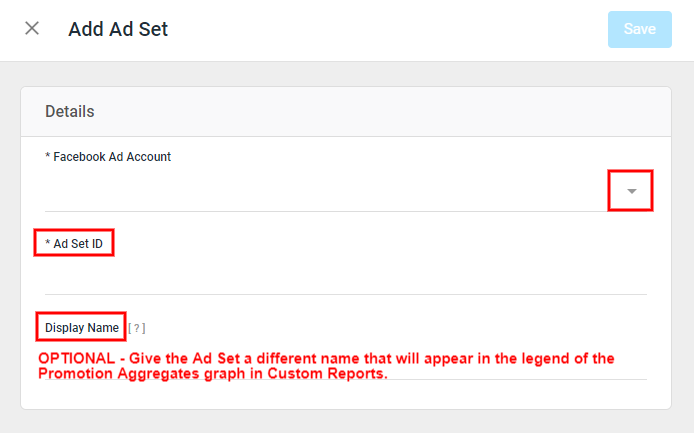 Finding your Ad Set ID in Facebook
Follow these steps to easily retrieve your Ad Set ID from your Facebook Business Manager:
Open your Facebook Business Manager and click on the Ad Account in which you launched the Facebook Ads Campaign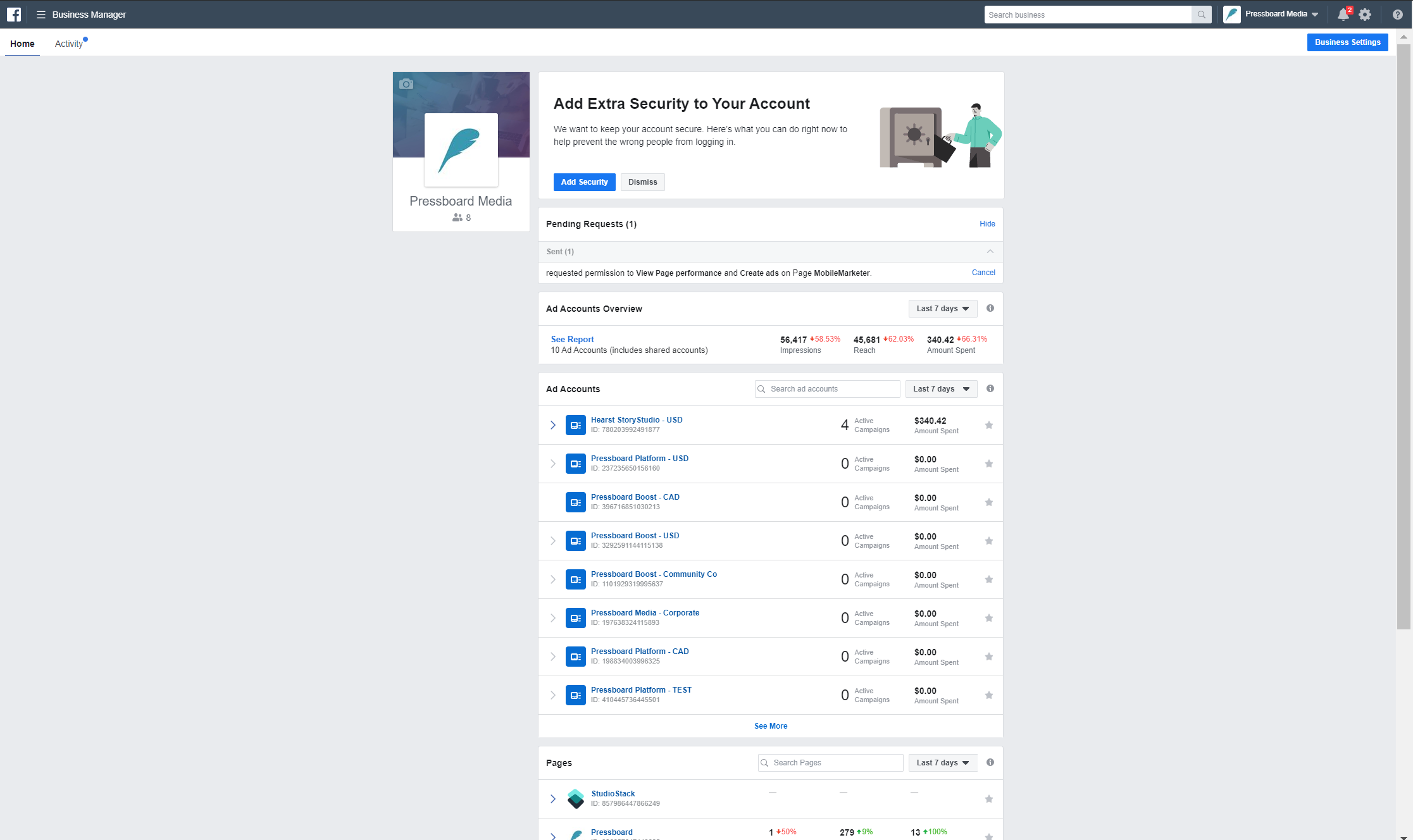 2. Find and select the Campaign (click the check-box), then click on the Ad Sets tab, then click on the Inspect button

3. In the window that appears from the right, click on the three dots "…" in the top-right corner, then click the Copy button at the bottom of the drop-down list to copy the Ad Set ID to your clipboard

Return to Pressboard Studio and paste your Ad Set ID into the Entity ID field

RELATED: Adding Data Sources to your Pressboard Studio account
SEE ALSO: Creating Campaigns and Activating Analytics in Pressboard Studio
Did this answer your question?