Story Report filters, Campaign filters and Nativo / AdMedia refresh button
In our latest platform release, there are a few major highlights worth noting. Please watch the short video below to get up to speed on some of these changes:
Summary of updates
1. Story Reports Filters
In a single story, you may have added multiple Facebook Posts, Google Ads Manager Line Items, etc. The new Story Reports filter (click 'View Reports' to access) now allows Users to isolate any combination of assets to be included or excluded from the aggregate results which are visualized in Report Components. Filtering to a specific asset will then only show that asset's results in the visual components of the reports dashboard.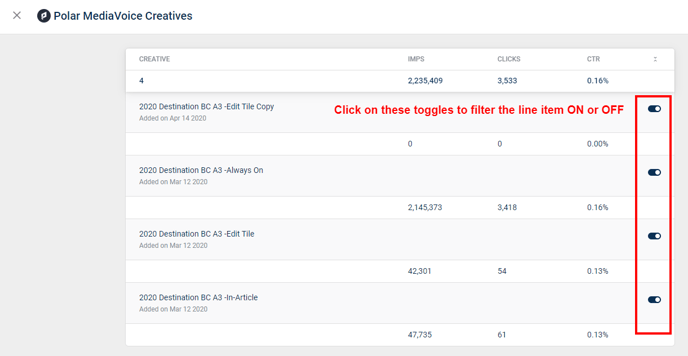 2. Campaign Filters
Previously, Users would see their 'My Campaigns' by default when they arrive on the 'Campaigns' tab. As of this release, all Admin Users will see All Campaigns by default. In addition, our team has surfaced the other campaign filtering options so you can easily toggle between All Campaigns, My Campaigns, Completed and Archived campaigns.
You can now also filter your campaign list by the following NEW filters:
- Client Order
- Advertiser
- Property
- Project
- Story Status
- Labels (custom / account specific)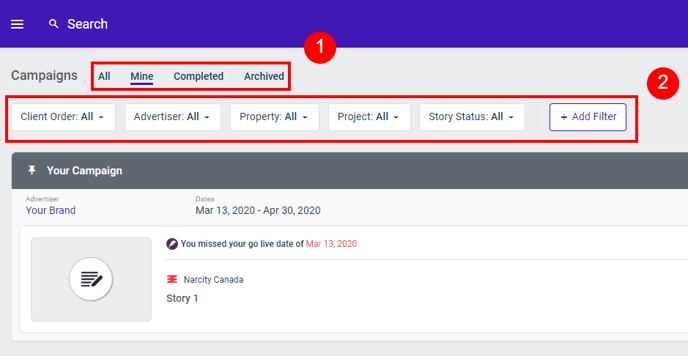 3. AdMedia / Nativo data refresh button
All external data sources with the exception of Pressboard Analytics are updated once daily. If a User would like to call for the latest available data through that data source's API (specifically for AdMedia and Nativo), Users can now click the 'refresh' button at anytime. Pressboard may add this refesh button to other Data Sources (Google Analytics, Google Ads Manager, etc) over the course of the year.

As always, if you have any questions or feedback on these updates, please reach out to us via the platform chat and/or email.
Thank you,
Pressboard team