'Reports' tab simplified, Pressboard Links set-up made easier and a new Facebook Report Component (in Custom Reports)
In this latest release, there are three major highlights that all platform Users should be aware of.
Please watch the 5 minute recap video directly below or feel free to read through descriptions of the changes itemized further below:
Reports - NEW work-flow when adding Analytics sources
Users must now add individual Analytics sources (#1 in screenshot below) to your story's reporting dashboard, as needed.
Each Analytics source can then be expanded (#2 in screenshot) individually to observe the results of various URLs/Posts/Ad Sets, etc, within each integration respectively.
Users can also choose to 'Expand All' or 'Collapse All' (#3) which automatically expands or collapses ALL Analytics source's results which have been added to a Story's Reports tab.
Other notable updates include: 'Date added' marker, Cover or post image preview (where available) and Destination URL preview (Pressboard Links).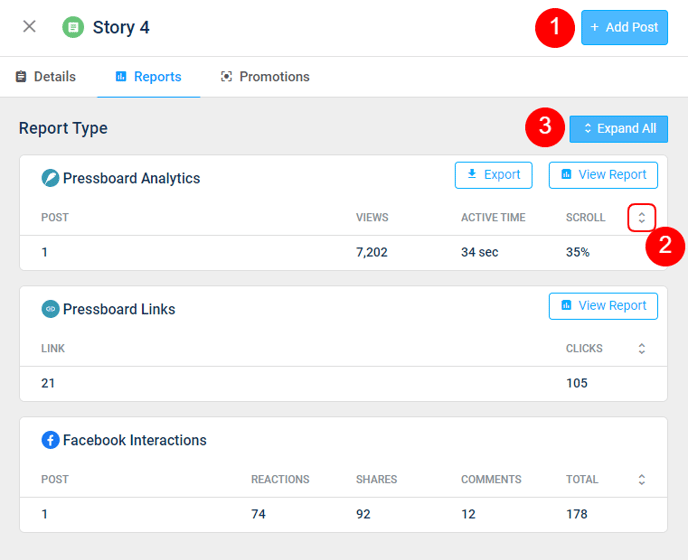 2. Pressboard Links - New button to easily copy converted links
Users can now click the 'Copy Trackable URL' link icon once a Pressboard Link has been created, which will copy the converted link ("sr.studiostack.com") to your clipboard. The copied link can then be pasted into a document, email or directly into your CMS for implementation at the article level (or any environment for which you have created the link in order to track Clicks).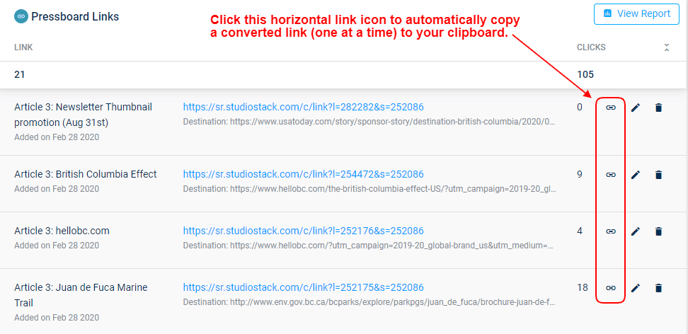 3. 'Facebook Posts' - NEW Custom Report component
The 'Facebook Posts' Report component in Custom Reports allows Users to aggregate / combine the Paid and Organic Impressions across each Facebook post that Users have added to a story's Reporting dashboard.
If there are multiple Facebook posts added to each story and there are several stories in a campaign, the 'Facebook Posts' report component will display an aggregate of Impressions, Unique Impressions, Clicks & Unique Clicks across every story's Facebook Posts as well as aggregating paid versus organic results for each individual post.
See example below: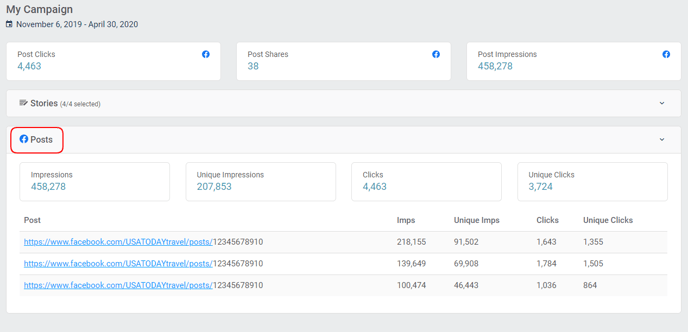 We hope you find value in this round of platform updates!
Please reach out to our Customer Success team if you have any questions or would like to schedule a training session to go through any of the updates that are a part of this release (release went live Nov 11, 2020).
On behalf of the Pressboard team,
Jay