Here are some easy ways to trouble-shoot and resolve missing or incomplete Pressboard Analytics data in your campaign.
Depending on which data source is experiencing an issue, there are some common issues that can be resolved easily.
Pressboard Analytics generally has three unique criteria that need to be met in order for the platform to be able to collect and visualize on-page data:
Correct Javascript in HEAD or top of BODY section of article template (html)
Correct Campaign Start & End dates
Correct and matching article URL in platform
Tip: Look for extra spaces or additional query strings at the end of the copied article URL which could be the reasons why the URL in platform does not match the URL on-site.
HOW TO CHECK IF CORRECT JAVASCRIPT IS ON-PAGE:
First, go to Admin Settings, then Data Sources > Pressboard Analytics. Note the 6 digit Media ID of the Pressboard Analytics Code that should be on your article page.

Next, using a compatible browser (i.e. Chrome), right-click anywhere on your article page and click 'Inspect'. In the Dev tools window, press CTRL+ F (Find) and type in "pressboard" or "studiostack" in the search field. Cycle through the results until you find the Pressboard javascript. Can't find the javascript? Mystery solved! Our proprietary javascript is the primary conduit by which data is collected and stored in our servers.
If the javascript IS placed correctly, you'll then want to confirm that the Media ID matches exactly with the 6 digit Media ID that was noted when looking at the site's Pressboard Analytics Code profile in the platform Admin area.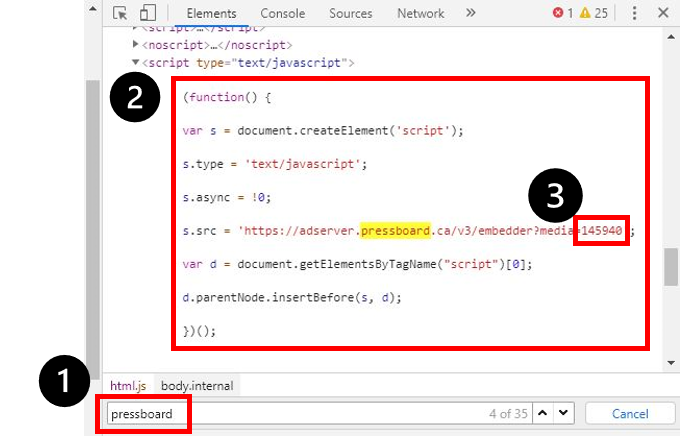 2. HOW TO CHECK CAMPAIGN START & END DATES:
In Pressboard Studio, a campaign's Start & End dates define the time frame from which data is visualized in your dashboard. Your campaign dates can be adjusted at anytime. Here's an example of a campaign where you might see missing data:
If your campaign launches on January 1st (Start date) and concludes promotions on several stories by January 31st (End date), but, you have a story that was published and began data collection on February 1st, the results for that story will NOT appear in your dashboard because the platform is not visualizing any Pressboard Analytics data after January 31st (your chosen End date). To resolve this, simply extend your campaign's End date to when you expect to stop reporting on the story that launched on February 1st. This concept also applies to any stories that launched prior to your chosen Start date.
The screenshot below shows you where to go to adjust your campaign dates. Start by clicking the campaign settings button (#1), then click 'Manage Campaign' (#2), then under the 'Brief' tab, click 'Edit' (#3).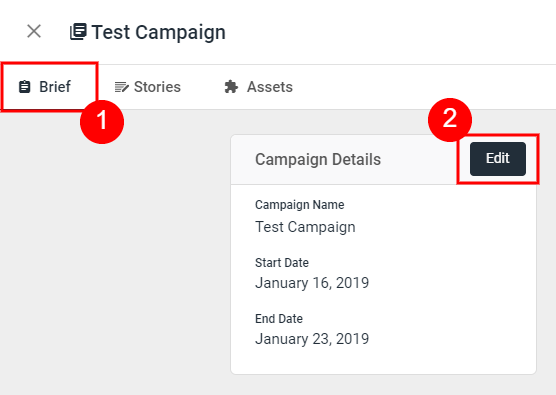 3. MATCHING ARTICLE URLS:

Last, but equally as important as the first two criteria is ensuring that your article URL as pasted in the platform is an exact match to the article URL as seen on-site. By pasting an article URL into a story, you are directing the platform to "ping" that URL to begin data collection (via the site's associated javascript and Media ID). If the URL in platform is not matching the one on-site, no data will be collected.
Here's an example of an easily over-looked change in article URL that might not be updated in the platform resulting in loss of data or no data being collected at all.
On January 1st, URL as pasted into platform is matching URL on-site:
https://www.usatoday.com/sponsor-story/01/01/2020-exciting-ways-to- experience-best-of-british-columbia/
On January 2nd, a minor change is made to the URL on-site:
https://www.usatoday.com/sponsor-story/01/01/2020-exciting-ways-to- DISCOVER-best-of-british-columbia/
If the new/updated URL is not added to the story in platform, our technology will continue to try (and fail) to collect data from the URL that was originally pasted into the platform, even if the javascript and campaign dates are correct.
Related: Static Vs Dynamic URLs
If you've checked that your campaign set-up meets all three criteria for Pressboard Analytics data collection and are continuing to experience issues, please reach out to our Customer Support team using the purple chat icon in the bottom right corner of the platform.
Did this article help resolve your issue?
See next: External Data Sources; Missing or incomplete data
Did this answer your question?