Now Live: Report Components & Story Reports
The Pressboard team is thrilled to announce a significant update that gives Admin users more flexibility over reporting components in their Organisation.

Background:

Previously, every component across all Data Sources was made visible to all users regardless of which Data Sources were connected in Organisation > Settings. Not ideal!

The full scope of components (all widgets) were only available in the Custom Reports UI when building out a Template or Share URL Report and users would search the entire catalogue for pre-made components relevant to their use case. Users would rely on the Pressboard team for the creation and management of new bespoke components but this superpower is now available to the Administrator role, and will affect reporting at the Organization level.

These capabilities exist in two UI's under 'Report Settings' in the main menu, once the 'Data Admin' permission is enabled.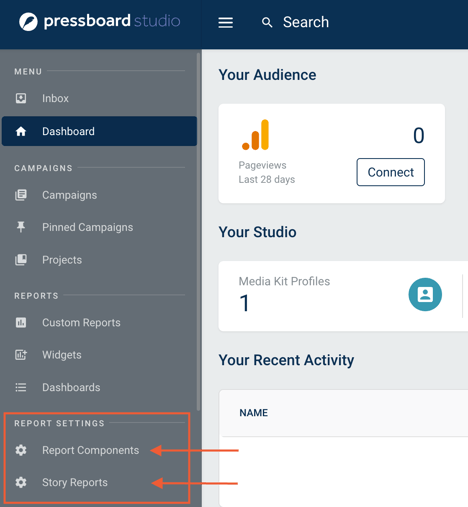 Report Components:
This interface 'cleans up' what users would previously have seen in the Custom Report builder by showing only relevant components, specific to the Data Sources that are have been connected in User Profile Settings. Default components for a Data Source - as soon as it's connected - populate here. This acts as a catalogue of all available components including any 'custom report components' you create from scratch for your Organisation.
Story Reports:
This interface acts as a reference list of all Story Reports and their respective metrics (can display up to six in total) which again are limited to the Data Sources you've connected in Settings. These reflect sets the configuration of Story summaries which are visible in the Campaign > Reports tab.
E.g.
Facebook Ad Set

What do I need to access Report Settings?


'Data Admin' is a new permission available to Administrators only and can be toggled on by your Customer Success Manager. We advise that your team thinks carefully about the number of Admins with this permission, ideally no more than one or two Admins need to have this permission enabled per Team.
📍Get in touch with your Customer Success Manager to request this permission!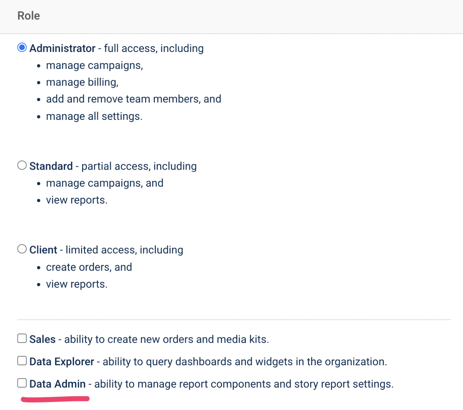 How do I create a new Component?

Watch our walkthrough of Report Components, including how to build a component from scratch.